Corporate Citizenship
Our Corporate Mission, as set out in 2010, is to become a model corporate citizen that sets standards in the manufacturing of plastic, die casting and electronic products operating with a social responsibility and conscience.
Our mission is to achieve the following goals:
provide training opportunities for all our employees

provide a safe, fair and harmonious workplace environment

care for the local communities to improve living standards for the aged, poor and needy
Vision
We aspire to be a world-class corporation who sets the standards in the manufacturing of plastic, die-cast and electronics products. We aim to be a leader and a key supplier of choice for our customers in providing quality ODM/OEM services for corporate premiums, toys and consumer products.
Mission
To provide the highest quality products and solutions for our customers through our total dedication in R&D, manufacturing technology, professional service and quality management

To become a progressive organisation where we dedicate resources in building excellence and achieving growth

To become a good corporate citizen and contribute to the society and communities where we operate in

To provide sustainable value and returns to all our stakeholders
Values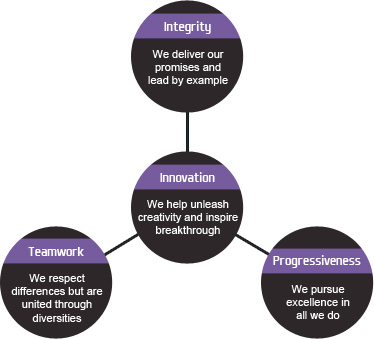 Treat employees fairly and with respect at all times, especially in relation to remuneration, welfare benefits and working conditions. Employment and promotion of staff will be based purely on ability and performance, not by gender, race or religious belief.

We believe "Talented Resources" is the most important asset of the company and Management is committed to training and providing excellent career development opportunities for our employees.

Provide a safe and hygienic working environment and protect employees' health and safety.
Abide by national, local and enterprise-related environmental laws and regulations, policies, and to implement national, local or industry environmental standards.

We strive to be environmentally friendly by adopting strategic energy saving measures and maximising the use of renewable energy within the factory's premises so that energy consumption and the production of wastewater, carbon emission and other wastes is minimal.

Commit to investing in commercially viable 'Green Solutions' to improve the overall level of environmental protection in the factory.
Maintain social responsibility through abiding by the laws and legislations as well as any international agreements and related industry standards.

Commit to continuously improving the human resource system, occupational health and safety management system, environmental management system and communication mechanisms.
Utilise company resources through various structured channels to ensure valuable contribution and care for the community.

Encourage the participation of all employees in community activities, enabling them to seek self-improvement while strengthening the company's cohesion and harmony as well as enhancing the company's public image.

Our goal is for Combine Will International Holdings Limited to become the industry standard/model in fulfilling corporate social responsibilities, to encourage more enterprises and their employees to actively participate in community activities, thereby enabling more needy people to receive community support and care.
To ensure the Group has a systematic approach in sustaining and carrying out its corporate social responsibilities effectively, Combine Will International Holdings Limited has established a Group Corporate Social Responsibility Division (part of Group Human Resources) as well as a Factory Corporate Social Responsibility Division (part of Group Operations). Through clear responsibilities and division of labour, the Group is able to effectively supervise and implement the relevant management system: