Corporate Profile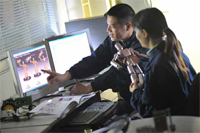 Combine Will International Holdings Limited ("Combine Will") is a leading Original Design Manufacturer ("ODM") and Original Equipment Manufacturer ("OEM"), supplier of corporate premiums, toys and consumer products around the world.
In last 30 years, we have been dedicated to producing custom products that are specifically tailored to meet our clients' needs. Our success is driven by a research and development model that is repeatable and focused on innovation and building strategic advantages. By consistently meeting key performance metrics such as operational efficiency and development processes, we have optimized our production line, reduced operating costs, and achieved high levels of quality and consistency. Our clients can leverage these core competencies to gain a competitive advantage and achieve success.
We have a diverse clientele portfolio that includes customers from Asia and Europe. We have demonstrated our ability to handle production for leading multinational companies in various industries such as toys, fast-moving consumer products, and international fast-food chains. As a leading ODM and OEM, we are a trusted supplier of corporate premiums, toys, and consumer products worldwide.
Our headquarters is located in Dongguan, Guangdong Province, in the People's Republic of China. We have five manufacturing facilities in Dongguan, Heyuan, and Cangwu, as well as Sragen, Indonesia, and employ over 7,700 workers.