Our Social Responsibility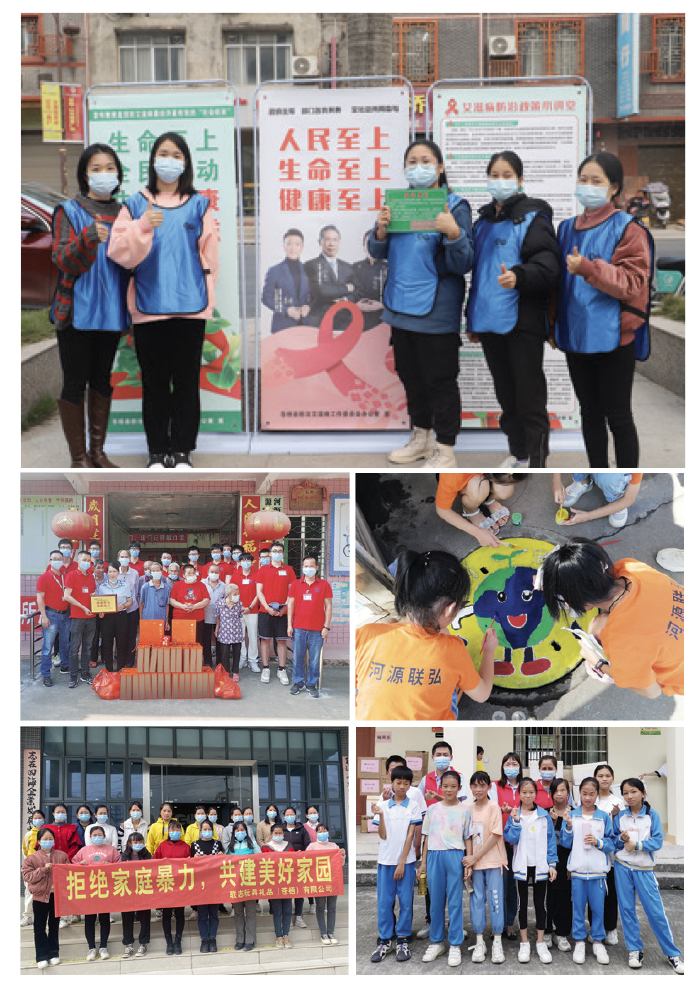 Community Safety Instruction
As we embark on our 30th anniversary year at Combine Will, we are proud to report that our corporate social responsibility ("CSR") efforts have reached a new level of maturity, generating positive change and impact in the communities where we operate. By leveraging our strengths and taking into account the needs of the local communities, we have provided financial, material, infrastructural, and psychological support for education, poverty alleviation, and the disadvantaged through outreach activities aimed at promoting the common good.
Working hand in hand with our corporate customers and partners, we are continuously exploring new ways to support our beneficiaries, not just through short-term material and financial donations but also by providing sustainable development opportunities and prospects. In 2022, we conducted a series of community initiatives that benefitted more than 7,600 people, demonstrating our commitment to making a meaningful and lasting impact on the communities we serve.
Enhance Volunteering Structure
In 2022, Combine Will continued to build on its strong commitment to CSR by enhancing and strengthening our CSR program. One of the key steps we took was to bolster our volunteering structure, encouraging more employees from frontline staff to top management to engage in community initiatives. By doing so, we were able to tap into the diverse perspectives and professional capabilities of our team members, expanding the scope and impact of our community outreach efforts.
As a result of these efforts, we successfully implemented a total of 22 community initiatives, which went beyond just donations. Our selection of initiatives was based on comprehensive factors such as the characteristics of the community and the urgency of the beneficiaries.
Community Infrastructure
Combine Will places a great emphasis on improving the living conditions of the people in the communities where we operate. One key area that we consider in our CSR program is community infrastructure. Indonesia has a strong religious culture, and we recognize the importance of supporting the local community's religious needs around our Indonesia factory.
In March 2022, we contributed to the renovation of the exterior walls of several prayer rooms in the Karangmalang area. Our contribution aimed to improve the aesthetic appearance of these prayer rooms and create a more conducive environment for worship.
In November 2022, we donated another prayer house to the community police station to provide a more convenient place for daily prayers for both the police and residents. We believe that such contributions can help to strengthen the bond between the police and the community they serve, which can contribute to a more harmonious environment for all.
Environmental Protection
At Combine Will, we believe that it is our duty to protect the environment and our shared home, as environmental pollution and climate change can pose significant challenges to the entire ecosystem and society, including climatic anomalies, floods, droughts, economic migration, and other threats. As such, we place a strong emphasis on environmental protection and reducing our carbon footprint to address climate change and achieve global climate change targets.
Our Indonesia factory is located in an area surrounded by farmland, and the local community is still disposing of waste in various ways, with the only waste collection point having inadequate storage capacity to cope with the daily waste generated. In August 2022, we donated two truckmounted hydraulic arm rollers to two villages, providing a larger capacity for waste disposal that can be easily transferred to the dumping station by a truck-mounted hydraulic arm roll. We hope that this initiative will raise awareness in the villages about the need to protect the environment from waste littering and burning, and reduce pollution.
Care For The Disadvantaged
Combine Will is committed to caring for disadvantaged communities and improving their rights. We aim to bridge the gap between these communities and the outside world by combining their human background with topics of high social concern. In the community where our organization is located, there have been incidents of domestic violence reported from time to time. An anonymous survey conducted by our factory in 2021 among its employees revealed that some of them or the women around them had experienced challenges related to domestic violence.
In response to this issue, we have collaborated with the Cangwu County Women's Federation to organize a series of anti-domestic violence training sessions. We have also deployed volunteer teams to reach out to villages and towns to promote awareness about domestic violence and to set up one-to-one support services to provide legal assistance and psychological counseling to women in need. As of November 2022, we have provided assistance services to 8 women who have endured domestic violence, and 2 women have been able to effectively resolve the conflicting relationships that led to domestic violence through the assistance of our volunteer team.
In Indonesia, while we promoting business activities in the community, we also recognize the need to provide basic livelihood protection for disadvantaged individuals with low or unstable income. To this end, we have assisted 52 residents, including food stall owners from around the factory, car park attendants from village enterprises, and farmers, to join the BPJS* social insurance scheme for work-related injuries and accidental deaths. We have also paid their premiums for the first three months.
The full Sustainability Report for FY2022 will be issued by the end of April 2023.
* BPJS: Types of Insurance and Social Security ("BPJS") in Indonesia.